DIGITAL MARKETING FOR POLITICIANS
Digital Marketing for Politicians in India: Mantra of Success
Prior to Indian election in 2014, the US political scene in 2007 witnessed a campaign by Obama that blended networking, e-mail programs and display ads in order to generate the dialogue to engage the constituents. Irrespective of whom you prefer at the political platform, digital marketing for political party with messaging has come to be recognised as a highly important medium than what it had been initially so much so that it is said to grow by 575% since 2012.
In 2014 General Election of India, BJP Team under leadership of Narendra Modi for the first time successfully used Social Media focussed Digital marketing for Politicians. In 2019 election we witnessed extreme surge in use of services of political digital marketing agency in India. All major National or State/Regional parties as well as individual candidates took services of digital marketing for political campaigns in India.
Digital marketing helps Politicians to Brand themselves in shortest time interval. Modern 'digital India' has made popularisation of oneself many-fold easier than early days. Facebook, Twitter, Instagram, can spread 'social activities' to the remotest area within a fraction of seconds. This saves precious time and money. Jio SIM with internet has added flavour to it, social communication has become smoother.
Irrespective of the field, Digital Marketing is widely considered as the need of the hour. It not only creates a familiarity in between the people and your social work, but also helps them understand your nature of 'social activities'. In case, you do not take care to see that an online branding for your 'political activities' has been carried out in a suitable manner, you might lose a considerable number of the probable fans, followers.
And here comes the use of professional Digital marketing for Politicians agency; they will take care of your Online Reputation with due professionalism. Obiyan Infotech is a Political digital marketing agency with long years of experience, the Team is well trained to deal with Political Campaigns for politicians. We provide various categories of Political digital marketing – (find details at the end of the page).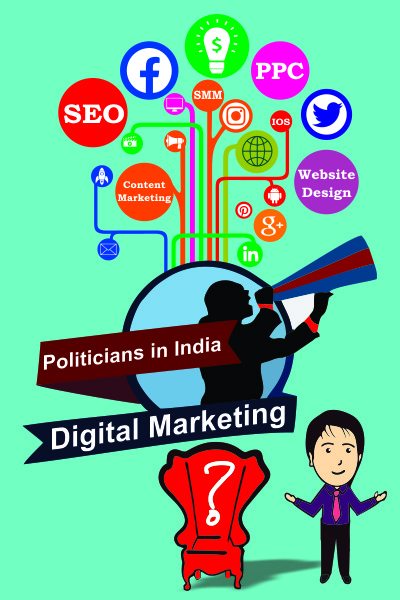 Obiyan Infotech, a political digital marketing agency in India, has developed a political model that takes the entire holistic picture into consideration rather than just the last of the touch points for the enumerated voters. The point to be noted is that both the digital marketing as well as politics aim at convincing the people to undertake a desired activity. It may include purchasing a product or voting for you.
And convincing is an activity that often demands lots of your time and also might leave you fatigued in the end. Our team related to digital marketing for politicians are well trained to overcome negativity and are professionally motivated to focus on positive aspects of the candidate or party till the end of the election.
Apart from being a worthy political candidate, one has to organise better digital marketing for political campaigns in India for success and branding. We at Obiyan Infotech, specialize in Digital Marketing for politicians in India, we focus on target audience, which is very important for political party(ies) or candidate(s) to gain the attention of the potential voters. Though a voter is absolutely entitled to keep his vote confidential, there are quite a few indicators that may help predict whom a voter is inclined to vote for.
Social media political campaign has the power to swing the votes in favour of specific party or candidate, if performed professionally, creating an emotional, psychological trend towards the candidate or party. You can take for example, General Election-2019 of India – 'Pulwama attack' episode brought Nationalism, Patriotism on the front of voters, and subsided all other issues like de-monetisation, GST etc.
Who played the major role? Obviously, 'social media'. Nowadays, social media has shifted from Newspaper and Television to 'Smart Phone'. Handy mobile phone contains all information, people are more comfortable checking all enquires/information here, and thus making mobile and internet a 'Power House' to bring revolution.
How Digital Marketing for Politician in India is helpful?
Unlike the Traditional campaigning, Digital Marketing for political campaigns is a cool option that allows a political campaign to target the required audience in an economical manner. No wonder Digital Marketing for political campaigns in India has left traditional political campaign far behind; but essential component – mixer of both will naturally provide best result.
Digital marketing political campaigns helps in creating an aura for the candidate before he meets his potential voters. Due to political social media activities, the voters are well aware about the candidate (beforehand) and so it facilitates the candidate's easy acceptance by the voters.
With a few tips as listed below, Digital Marketing may prove to be even more effective:
– Social Media political campaign strategy i.e. Running a campaign at a Social Media e.g., Facebook, Twitter, Instagram etc.
– Launching your own website and conveying to the world around, the contribution that you have been making for the entire society
– Campaigning with slogans and logos
– Video marketing, etc.
Customizing the Targeted Messages:
– At Obiyan Infotech, for Digital Marketing for political campaigns in India, we make use of the digital data and the accessible tools to customize the messages as per the values upheld by the targeted audience in order to add to the voters base
– At Obiyan Infotech, a political digital marketing agency in India; we also optimize the dynamic resources in an intelligent manner so that your ads get the most favourable of the responses.
Beating Voter Ads Burnout with Sequencing:
Voters, like any other audiences, get tired of the repeated ads. However, the digitally advanced political ads often employ the cross device analysis and the tracking abilities so that the voters do not get tired that quickly. At Obiyan Infotech, we make use of the cutting-edge technology that employs ad-serving ways. It helps manage the ad-sequencing in an effective manner.
Though, it has been customary for the campaigns to depend on the ads that had been paid for, the crowd attracting Social Media has made the unlimited free of cost advertising feasible.  The Social Media provides highly attractive platforms for the same.
Besides, there is a lot of content that may be shared on Facebook, Instagram, Twitter etc., including animated GIFs, YouTube videos etc. Apart from being free of cost, this kind of advertising proves to be highly persuasive while a voter decides in whose favour he should cast his vote.
The steps listed below may help you draw maximum of the gains out of digital marketing for political campaigns:
– All of the digital impressions are produced at par. A certain extent of quality inventory needs to be observed.
– Though targeting your audience is good, but do not overdo it for that would not result in more of gains.
– The marketing and the advertising media must work together in order to get the best of the results. (Our experts know the best)
Social Media Political Campaign Strategy & Impact on Indian Politics
– The Social Media platforms including Facebook, Twitter and YouTube etc., have produced a dramatic change in the manner the political campaigns are undertaken.
– Social Media can and does play a decisive role to make a political party or candidate get the majority of the votes.
– Facebook is known to have produced a remarkable impact on the polls in 260 of the 543 Indian constituencies (General Election – 2019 report).
– The youth, apart from being tech savvy is fond of being continuously updated and the same holds true when polling takes place! (In every election, tilt of Youths have been decisive in winning the election.)
Our Digital Marketing for Politicians Campaign Team contains:
– Content Writers (All Indian Languages)
– Content Analysts
– Trend Analysts
– Graphic Designers
– Digital Marketing Executives
– Digital Marketing Managers
– Website Design/Development
– Video Analysts
– Video Editors
– Video Marketing Executives
– SMS Marketing Executives
– Voice SMS Executives
– WhatsApp Marketing Executives
– Email Marketing – with target audience (Paid)
– Remarketing – with target audience (Paid)
– Display ads (Paid)
– Adwords (Paid)
– Facebook – Fans & Followers with target audience (Paid)
– Twitter – Fans & Followers with target audience (Paid)
– Many other Media Marketing feature
We perform two Types of Digital Marketing for Politicians:
(1) Shared
(2) Dedicate
(3) Customize
Note: Rate varies according to the package.
We provide Digital marketing for Politicians, Political Party(ies) as well as individual candidate aspiring to be Politician in future (Online Reputation Management). All information is kept confidential i.e. we don't share strategy of any political party or candidate. Yes, we provide professional services to each candidate based on our long years of experience as a political digital marketing agency.
For details call: 7044444433 or WhatsApp: +91 9717217665 or Email: [email protected]
Email: [email protected]
Address: Raj Towers, A-5, 2nd Floor, Mukherjee Nagar,
New Delhi, Delhi 110009
Call:  7044444433